Finding myself in Paris again and what do I do…go to the "Puces" of course!! I have long figured out how to negotiate at the Flea Market! Over the years I have used the same 4 step process with much success.
The first key is that you pick the right time to do your buying. This is important because the vendor must be in need of sales.
Come on we all know what it is to hit quota for the day! Typically I pick Saturday afternoon…not too late just enough to gage the crowd. Say 3:00-4:00pm.
Then I use the 4 steps:
Step 1: Desire…when you first encounter something you want make sure you evaluate the item. Loads of copies here…which is ok but just be certain you're getting what you pay for? Comprenez-vous?
Step 2: Pout…Make sure the seller understands that you want the item but cannot spend more than a set amount…pout…I want it so bad would you take… €200? No! S'il vous plaît! Ok I understand…now POUT! Facial expression only!
Step 3: WALK AWAY! Yes, walk away. You may love it but remember two things the seller may come down and you may find something else just as wonderful around the next corner!!
Step 4: Give it 30 minutes (minimum) and up to 1 hour (maximum). Find your way back to the stall…look around do not ask about the piece just look around…If the seller say's nothing then the deal will never happen BUT don't be surprised at how often they come around.
I SWEAR IT WORKS! Like a charm…of course if the seller does come around be sure to be charming. MERCI, MERCI!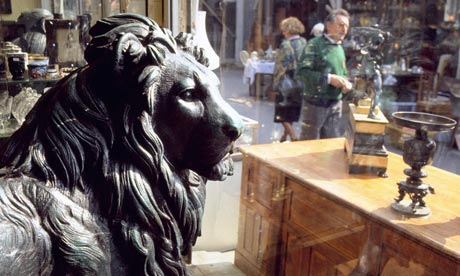 The art of negotiating the "Puces" comes with years of trial and error. The biggest mistake I made early on was the failure to have a guide.
This is particularly important here because the guides in Paris form relationships with Vendors and they are given incentives to bring clients around.
Mainly they give discounted prices!
The vendors also take you seriously as a buyer…they pay attention when they know you came prepared to purchase…not just a tourist stumbling along with no knowledge of how to speak (if you don't speak French), what to buy and how to ship.
Going to the "Puces" without a guide is like wearing a sign that says…"FOOLISH!!"
Buying is one thing, shipping is another! Be sure you have negotiated a rate for a container. KEEP IN MIND shipping is done by scale not weight.
This will mean that you must buy enough to fill a container or the price of shipping will KILL YOUR DEAL!
Getting help with what to fit into the case is another huge attribute of the GUIDE! WE LOVE GUIDES!!! They do all the work and make our bargain dreams come true!
Now if you just cannot stand the idea of delayed gratification and want things that fit into your suitcase there is always CHANEL!
Just make sure you understand the bargaining power of CASH. Tell the dealer that you have credit cards…then say "if I go get cash can we improve the deal?" YES YOU CAN.
This happened to me one of many Chanel buying trips. Found €800 worth of Chanel and negotiated it down to €600 using this tactic. NOT BAD.
Of course at this point I had a guide, which made things much easier!
Currently I am the Development Director for Journey of Eight a world class Event Planning Organization.
I personally have a background in collectible Art and have written several articles on Antique Buying, Travel to Paris, Flea Market Finds. I have enjoyed traveling the world negotiating treasures.
For information on traveling with me to Paris; check out the Paris Journey.