While looking for a place to stay in Paris I stumbled upon this jewel the Hotel Particulier Montmartre a former private home that in 2007 was transformed into a five-suite, luxury hotel.
One amazing aspect of this hotel is…location, location, location. Found in the last bit of historic Montmartre scrubland, Hotel Particulier sits nestled between the famous Avenue Junot and Rue Lepic.
It's surrounded by both an exceptional private garden by the architect Louis Benech and a turn-of-the-century pétanque court. The garden is an ideal spot for a glass of wine and a great book.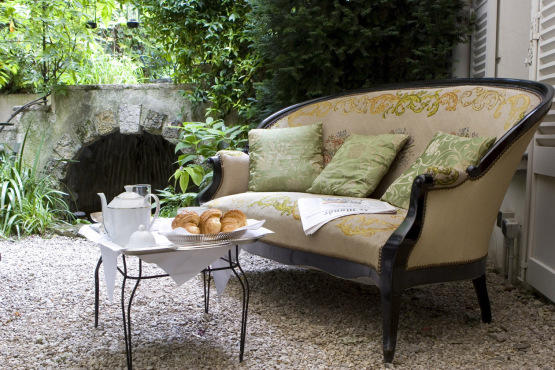 The hotel has integrated its works of art and collectible objects throughout the suites, lobbies and salons. Unlike your typical art gallery the articles here comprise the elements of the living space.
The layout of the Suites was designed to reflect a desire to create a totally singular and original site; to reveal the incomparable by personalizing each space poetically.
This is accomplished in their utilization of specially designed wallpapers, fabrics and lighting fixtures, unique bathrooms which all prove a perfect taste for  french customs and attention to detail.
This is a quaint, charming petite hotel perfect for those seeking authentic Paris!